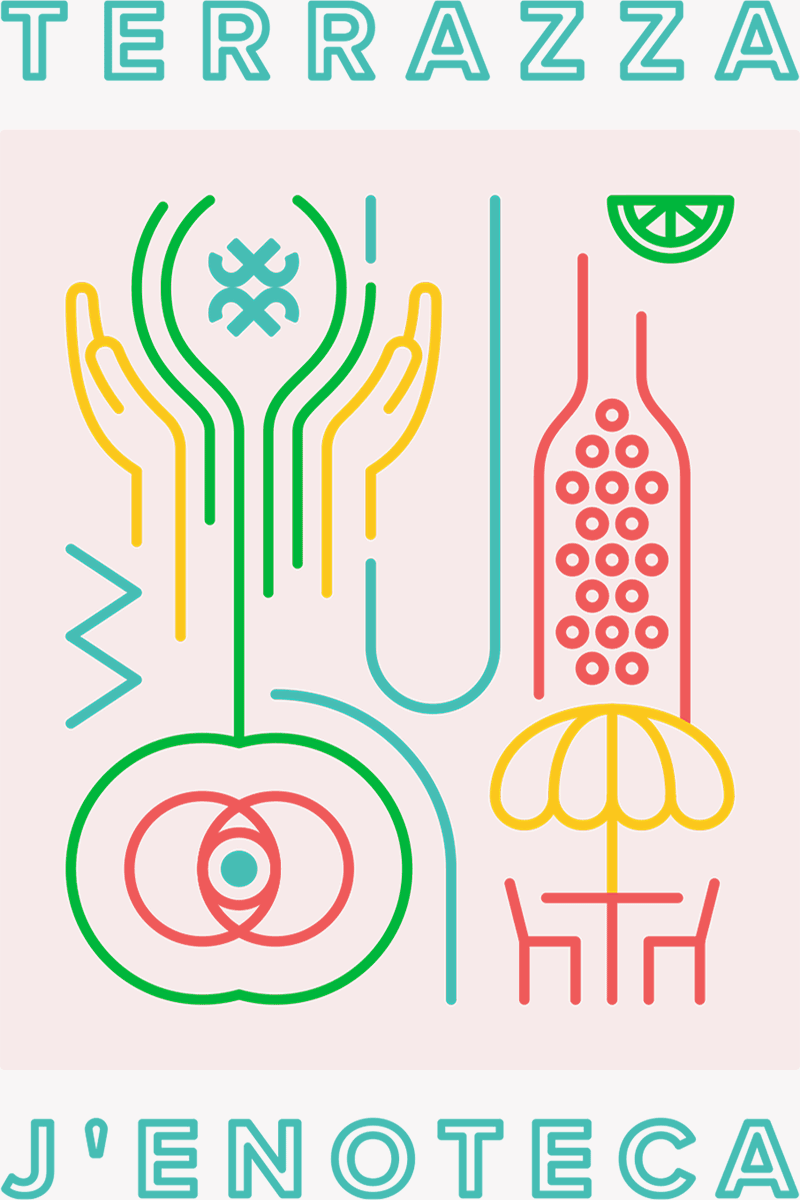 A prospect that both you and we are looking forward to: the opening of the terraces on 8 May. We immediately got to work with this news and created a terrace concept: Terrazza J'Enoteca.
The Jane Antwerp would like to welcome you to our open air concept. Nick Bril will be responsible for the culinary interpretation together with his chefs.
We are striving for an accessible but refined concept; think great dishes, exquisite drinks, good vibes, some music and finally a moment of being welcomed as guests again.
INFORMATION
In addition to the fact that we must take the weather conditions into account, we wish to respond properly and correctly to the indicated measures, which is why we use the following reservation period:
On Monday we communicate the days that will open the same week and for which you can make a reservation. This via our social media channels: Instagram and Facebook.
We serve à la carte dishes at Terrazza J'Enoteca. We cannot take dietary requirements or allergies into account. If you are unsure whether we can meet your wishes, please do not hesitate to contact us first at: terrazza@thejaneantwerp.com.
Terrazza J'Enoteca is open Thursday through Sunday from 12 noon till 10 p.m. You can make a reservation using the form below, on the desired day and time, up to 24 hours in advance. The availability on the website is always up to date and is automatically adjusted. Therefore, if a date is full, it really is. If you wish to book with more than 4 people (only possible if all persons belong to the same household), we will process your request via terrazza@thejaneantwerp.com.
For urgent questions or contact regarding your reservation within 24 hours before your arrival, you can reach us via Whatsapp on 0032 485 47 20 47. We can be reached via Whatsapp on Wednesdays from 9:00 am to 5:00 pm and from Thursday to Sunday from 10:00 am to 10:00 pm.
We would like to ask you to respect your arrival time as well as possible, we work with time slots of 1.5 hours. This way we can receive you in the best conditions.
The Terrazza J'Enoteca site is wheelchair accessible. We have a few tables for this. Please indicate this when making your reservation so that we can allocate a suitable table.
Please note that Terrazza J'Enoteca can cancel your reservation at any time due to bad weather conditions. Naturally, the commission taken on your credit card will be released again.
MENU
Irish Mór Oysters (per 2 pieces)
NATURAL WITH MIGNONETTE € 9
MARY V, CELERY & SAMPHIRE SALAD, LOVAGE OIL € 10
UME, CUCUMBER, SEAWEED, YUZU KOSHO, PONZU CODIUM € 10
Starters
BRESAOLA DI MASSIMO € 16
BLEND CROQUETTE, OYSTER EMULSION, CRUNCH OF POTATO AND PORK SKIN € 8
TEMPURA OF SOFT SHELL, PEA, BBQ CABBAGE SALAD, FISH SAUCE VINAIGRETTE € 14
PRAWN DUMPLINGS, SPICY ALMOND DRESSING AND SESAME € 14
PATE EN CROUTE BY MILLS BOUGIE, MUSTARD € 20
Entrements
CEVICHE OF SEA BASS, RED ONION, GREEN BANANA, AVOCADO, AJI AMARILLO € 18
BURRATA CASA MADAIO, STOFFELS TOMATOES, FOCACCIA, LAVAS VIERGE, BASIL AND MARY V EMULSION € 19
STEAK TARTARE, PARMESAN, TRUFFLE CREAM, EGG YOLK, PLANT SALAD € 26
SASHIMI MORIAWASE ( 3 KINDS OF FISH) € 24
Main courses
DORADE OF THE BBQ, FIDUA WITH CHORIZO, EGGPLANT, SAFFRON AIOLI € 34
YOUNG TURBOT ON THE JOSPER, WHITE ASPARAGUS, CAPERS & GREEN HERB BEURRE BLANC € 45
LAMB SADDLE, GREEN ASPARAGUS, BABY POTATOES, NANTES CARROT, GREMOLATA, LIGHT LAMB GRAVY € 45
SIXRIB SIMMENTHAL (2 PERSONS), SELECTION LUC DE LAET, MASH AND GRAVY, SHALLOTS WITH MADEIRA € 36/PP
Desserts
CHEESE SELECTION FROM CHEESE REFINERS VAN TRICHT WITH MUSTARDA AND A FRESH SALAD € 18
DAME BLANCHE € 14
RHUBARB, PANNA COTTA € 14
SEA BUCKTHORN BERRY, YOGHURT, BANANA BREAD € 15
RESERVATION